Custom Blinds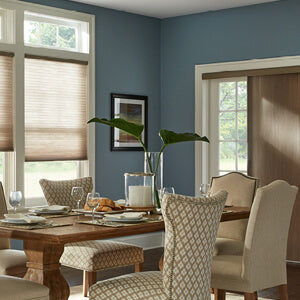 HONEYCOMB SHADES
Opacities include sheer, semi-sheer, semi-opaque and blackout—so you control the light, not the other way around.
The insulating qualities maximize your home's energy efficiency, especially with SoftStyle cellular shades featuring double cells.
The patented D-cell design keeps its crisp, full pleated structure and facing for the life of the shade.
Our sumptuous fabrics, rich range of hues and patterns and 5 distinct cell sizes means from tiny to grand, we haven't met a window we didn't like.
Unusual shaped window? We've got you covered.
The stain- and wrinkle-resistant, easy- to clean fabrics practically take care of themselves.
​WINDOW SHADINGS
Soften that harsh sunlight. Fabric vanes suspended between two sheer panels tilt to brighten up or dim down your environment.
Wonderfully wide for larger windows and doors. Up to 120" wide, in fact. Stay in proportion with three vane sizes to suit the scale of your windows.
Much less hassle than adding a skylight. The unique s-shaped vanes capture more light, illuminating a magically even glow deep within your room.
Drink in the view. When raised, the shading completely disappears into the headrail. When lowered, the magnificent outdoors remains in sight with no distracting lift cords.
Maximize your privacy. During the day, you can see out, but no one can see in. At night, close the vanes and voila… privacy assured.
NATURAL WOVEN SHADES
From harvest to fabrication, over 20 different specialists create each unique shade for our three collections.
Enduring quality? Look to details like hand-sewn rings stitched right into the weave.
Natural Woven Shades are meticulously hand-fed on a loom by skilled artisans who've passed their craft from generation to generation.
Our Grass Weaves keep it artisanal with man-made yarns spun from natural by-products.
Accent the positive with handsome sewn-edge binding choices that add finished flair.
​ROLLER SHADES
A minimal look with UV efficiency is their hallmark. Over 100 solar screens, with varying degrees of openness, filter just the right amount of light.
More than 120 different fabrics means there isn't a style we can't complement.
Breathe easy. Our Greenguard certified fabric selections ensure low emission levels.
Already have beautiful draperies? Add Roller Shades for increased light control.
Pro trick: Mount on the ceiling and our Panel Track Shades become a savvy room divider.
Outside, our Exterior Shades stand up to Mother Nature, blocking intense heat, diffusing harsh incoming light, yet keeping the view. Like magic.
​DUAL SHADES
Translucent and light-dimming fabrics are blended with a sheer or mesh fabric, providing varying opacity levels depending on fabric choice.
When aligned, solid bands ensure privacy; when shifted, the sheer bands allow natural light and diffused views.
Innovative, fully enclosed bottomrail allows fabric to slide through smoothly for effortless operation and alignment.
Shade disappears inside the headrail when raised for a full outdoor view
​WOOD BLINDS
Instantly invoke an heirloom aura with luxurious, gleaming wood.
Innately energy-friendly, our woods are chosen for their natural insulating properties.
Choose from the rough luxe of a wire-brush finish or the classic look of smooth-finish paints and stains.
Add two or three blinds beneath one continuous headrail and continue the style on wide or side-by-side windows.
Cordless options make for a timeless look and tangle-free operation. Safety + sophistication.
A decorative valance turns your window into a fine furnishing.
FAUX WOOD BLINDS
High-design on a dime. Get the look of classic hardwood or vintage Venetian without tapping into your inheritance.
The look of wood + the carefree upkeep of vinyl = perfect for kitchens, bathrooms, and laundry rooms.
Opt for Cordless Lift & Lock TM, and you've just added an extra level of safety for your children and pets.
Woven tapes in rich solids and decorative patterns inspire creative customization.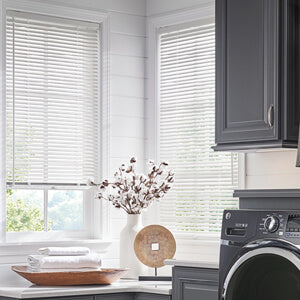 ALUMINUM BLINDS
Keep maintenance to a minimum with our dust-resistant finish.
Spring-tempered slats bounce back into shape, resisting those pesky kinks and dents.
Multiple collections offer alternatives from classic cost-efficiency to premium panache with heavier-duty slats, LightsOut feature and built-in valance.
Wide window? Wide smile. Hang 2 or 3 blinds on a single headrail to cover it all.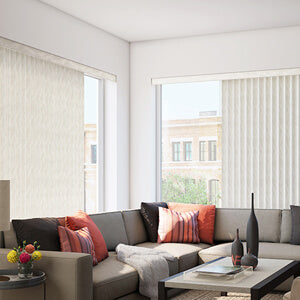 VERTICAL BLINDS
Our custom collection includes textured or smooth vinyls, snappy S-Curve vanes, and fantastic fabrics making your window a very tactile affair.
Block out the light or block out the neighbors with the twist of a wand.
Choose from a variety of light-filtering fabrics for a gentle ambiance or insert into groovers and that same beautiful textile does double-duty as a blackout.
Create - or accentuate - the sense of height for sliding glass doors or beautifully broad windows. Incredibly easy-to-maintain vinyl selections mean fewer tasks and more time for… other stuff.